Toys 'R' Us is Out — What's Next?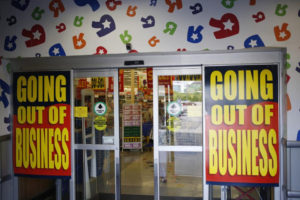 While your inner child mourns the loss of  Toys 'R' Us across the country… retailers are taking advantage of vacancies and moving in. Hobby Lobby, Burlington Coat Factory, TJ Maxx, and Marshalls are only a handful of the new tenants.
The closing of Toys 'R' Us has opened up 3.8 million square feet of space. This turn of events has made open-air shopping centers take over the vast majority of U.S. retail real estate.
"The retail real estate space is at a crossroads right now," REIS's economic analyst Cody Bond told Forbes
.
The shift to e-commerce has left brick-and-mortar retailers questioning their physical locations. In order to compete with online stores like Amazon, brick-and-mortar need to discover what makes physical locations so special.
Despite what many believe, average rents across both open-air and enclosed shopping centers in the U.S. have been on the rise. Additionally, growth in the labor market has shown favor to traditional brick-and-mortar retail.
Want to learn more about the future of brick-and-mortar retail? Check out the full article on Forbes.com here: https://www.forbes.com/sites/andriacheng/2018/07/08/brick-and-mortar-retail-is-far-from-dead-just-look-at-whos-moving-in-to-replace-toys-r-us/